Orkanda The Best Home Lift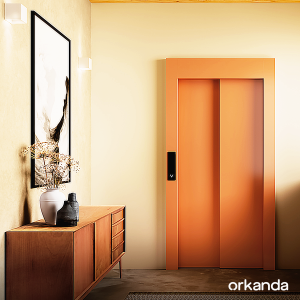 We spend years months or days before deciding the perfect design for our homes. Every single thing we pick for our homes very carefully. Choosing a home lift for your house is a very big deal. There are many things that we need to consider before choosing the right lift for your home. In this article we will help you to understand the facts and the importance on choosing the right lift for your home.
All lifts are almost same. The basic principle of the lift is to travel vertically carry person or goods.
But what make the difference ?
Safety The most important point that you need to consider is the safety. Your lift is going to carry human life. Nothing can replace a life. So, the safety of your lift is unavoidable. You never should compromise with safety. The lifts that you are going to buy for your home must comply with EU standard. Lifts in home and lifts in commercial building is slightly different. As per European Standard the lift at home should have max speed of 0.15 m/s. The most commonly regulation is applied for home lift is EN 81-41/42 standard or EC 2006/42. The lift which you are choosing for your home must have some specific default safety features.
Emergency stop
Autometic door locks
Safety switch in PIT
Final limit switch in PIT as well as in top floor.
ERD (emergency rescue device)
Emergency lighting
Over speed protection module.
Additional Breaking system.
Most of these features are covered by European lift producers as its mandatory.
Esthetic Design – Home is all about design and interiors. Most of the lifts in the market are standard. Covered with concreate shaft. We in Orkanda solved the esthetic looks of the lift. We can provide a 360 full panoramic view. The shaft you can choose in any RAL colour matching with your interior looks. You can have 3-sided door option based on your home. So, no additional construction or no additional costs.
Existence of the supplier – Its very important to consider the existence of your home lift supplier in your residence county. Lift is a machine. Its need to be serviced properly on time. Only a supplier itself can provide this facility. Always remember everyone can sell a lift but its very few who can continue the aftersales. For your after sales safety, you should check whether the supplier itself exists in your area or the service is done by 3rd Always remember your lift is going to carry life.
Single pricing – When you are doing the research on your home lift. You should check whether your desired lift is sold by supplier directly with a single price principle or you are buying from a reseller. And if the product you buying have single reseller or multiple resellers. Buying a home lift is life time investment on your home. So be wise to choose.
Technical support – Make sure the lift you buying from the provider have enough technical support residing in your city or nearby. If you buying lift without knowing the technical support means you are buying blind folded. And we in Orkanda do not suggest that.
Availability of spare parts – You need to be sincere to check if the supplier has enough spare parts stock. It takes a long time to import spare parts from overseas and the lift cannot be operated without the parts.
Portfolio – Portfolio of the supplier in your own country is very important thing to put in your bucket list. Maybe you are looking for branded product but are you sure to use it if that brand is not having all this 1 until 6 points full filled ?
Be a wise Buyer